Since 2017/2018, the Australian Government has been strengthening the character test through many different methods. On 24 November 2021, a new bill was introduced to once-again tighten the character test.

 
What is the Character Test?



For every visa that is granted to enter and remain in Australia, it is considered a privilege which Australia confers and there is an expectation that those people will not cause or threaten harm to individuals or the Australian community. As such, the character test is put into place to ensure that only individuals who are assessed as being of 'good character' to be conferred this privilege. 
The character test is set out in s 501 of the Migration Act 1958. Currently, the law states that individuals will not pass the character test if they have:
a substantial criminal record  
been convicted of an offence whilst in immigration detention, during an escape from immigration detention or whilst on escape  
been convicted of escape from immigration detention 
involvement or membership with group, org or person involved in criminal conduct  
involvement in people smuggling, trafficking, genocide, crime against humanity, war crime, torture, slavery etc.  
past and present general and criminal conduct demonstrates not of good character
risk to Australian community  
been convicted of sexually based offences involving a child or found guilty of such offence etc.  
Been assessed as a risk by ASIO 
Interpol notice  
The Minister currently has the discretion to refuse or cancel a visa if a person does not pass the character test. 
However, if a person is serving a sentence of imprisonment and has had a substantial criminal record of conviction of a sexually based offence involving a child, then the Minister must proceed to cancel the person's visa. There is no discretion.  
What developments have we had so far?
The 2017 Joint Standing Committee on Migration recommended that those convicted of serious offence(s) should have their visas cancelled under character provisions. 
On 28 February 2019, the original Ministerial Direction no 65 was repealed and a new Ministerial Direction No. 79 was introduced. This was the first instrument which introduced the line of thought that crimes of a violent or sexual nature against women or children or vulnerable members of the community such as elderly or the disabled should be viewed very seriously. 
On 04 July 2019, the Migration Amendment (Strengthening the Character Test) Bill 2019 was introduced to implement similar concepts. This failed to pass through the Senate after 2 readings on 20 October 2021. 
On 08 March 2021, the Ministerial Direction No 79 was repealed and a Ministerial Direction No 90 was introduced. This had the effect of strengthening the character test by: 
defining family violence to include (but not limited to) assault, sexual assault, stalking, repeated derogaratory taunts, intentionally damaging or destroying property,

 

unreasonably withholding financial support, preventing the family member from making or keeping connections with his or her family etc.

 

Family violence are now to be viewed as a very serious crime regardless of whether or not there is a conviction or the sentence imposed

 

Clearly defining serious conduct to include behaviour or conduct of concern which does not constitute any criminal offence

 

Causing a person to enter into a forced marriage is viewed seriously

 

Setting out what the Government considers as the Australian community's views as a whole and directs the decision maker to not independently assess the community's expectation based on the individual facts of each case

 
On 24 November 2021, the Government introduced the Migration Amendment (Strengthening the Character Test) Bill 2021 again. It attempts to revamp the character test which would provide grounds to consider cancellation or refusal where the person has been convicted of offences involving violence against a person, weapons, breaching of an apprehended violence order, non-consensual sexual acts etc. 
What is the difference between the Character Test and the Ministerial Directions?
Firstly, the Character Test is contained within legislation and it is the starting point with which the Minister can consider cancellation or refusal.
A Ministerial Direction is not legislation or law. It is only a written direction of the Minister directing those with functions or powers under the Act on how they should exercise such powers. For the character test, they direct the decision makers on how they should be exercising the discretion on whether to cancel or refuse the visa. 
Although the Ministerial Directions can be changed easier than the law, its effects are much more limited. 
See diagram below for a quick explanation of the assessment process: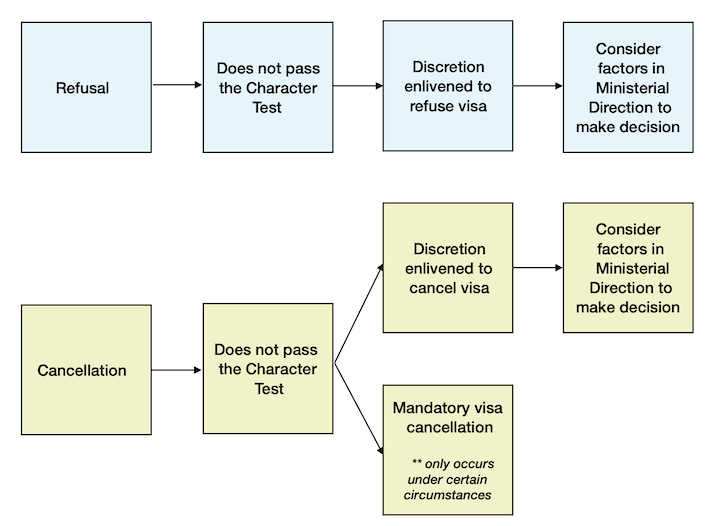 Evident from the diagram above, the Ministerial Direction is only considered when the discretion to cancel or refuse a visa is enlivened. This explains why the Australian Government is insisting the passing of the Bill despite it failing just in October 2021. 
The Bill strengthens the character test by introducing a new ground in which a person can fail the character test. 
It establishes the new concept of 'designated offence'.
If a person has been convicted of a 'designated offence' then they would not pass the character test. A designated offence is any of the following offences where its maximum penalty is no less than 2 years' imprisonment: 
violence or threat of violence against a person which involves family violence or causes bodily harm or mental harm

 

Non-consensual conduct of a sexual nature such as act of indecency or sharing of an intimate image

 

Breach of a personal protection order such as an apprehended violence order

 

Using or possessing a weapon

 
It includes any person who is involved in any of the above offences by aiding, abetting, counselling, procuring, conspiring, inducing through threats or promises, or being directly or indirectly knowingly concerned in the commission of the offence. 
Regardless of a person's actual penalty or sentencing, if that offence carries a possible maximum penalty of more than 2 years' imprisonment then that person cannot pass the character test. 
From the rapid development of the legal and policy changes of the character test in the last few years, it is clear that the Government is trying to make the character test more difficult to pass. 
If you are concerned about whether you would be able to pass the new character test, you should immediately consult an immigration lawyer for advice. Although the bill may take some time to be passed, it is still good to always plan ahead. 
Need to consult with us? Book an appointment today.
Our team will give you expert advice that has been specifically tailored to your case.
Fill in the questionnaire here and we will call you for an obligation-free assessment. During this phone call we will run through your initial concerns and needs and book in a time for a more detailed consultation.
Our consultation session runs for 30 minutes which will allow us to present to you a detailed strategy to meet the concerns and needs you presented to us in our initial phone call.
Our fee is $150 + GST for a 30 minute session. You can book in a consultation by calling us, emailing us or filling in the Contact Us form.
Settling the strategy and getting started
At the consultation, we will generally present to you a few selections of the best strategies.
We will also balance the time required, costs and difficulty so that you can choose the strategy you are most comfortable with.
Then we will handle everything on your behalf.