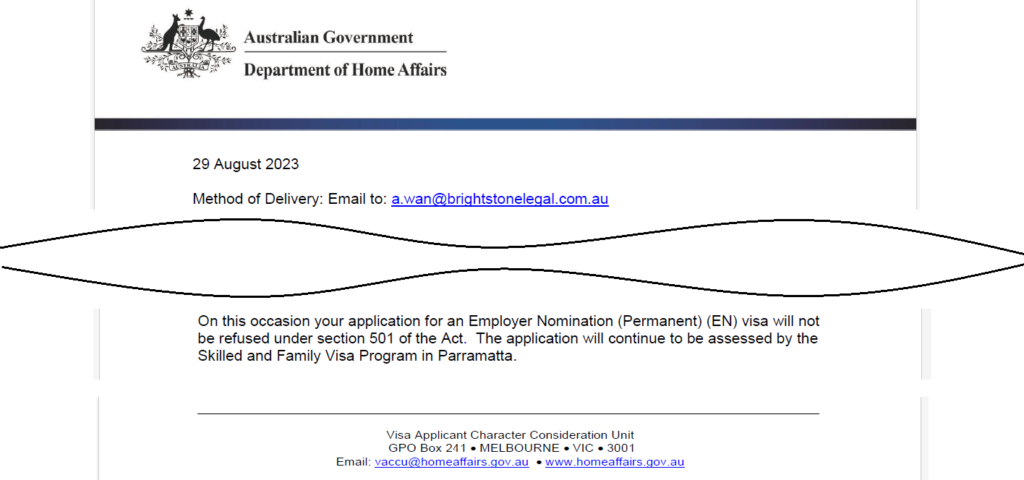 Despite having previous domestic violence convictions and suffering substantial delays with previous agents and lawyers, we successfully reached an approval of meeting character requirements within 3 months. 
Almost all visa applications have a character legal requirement. This requires the visa applicant to be of 'good character' to be granted with a visa in Australia. 
In recent years, significant emphasis has been placed on family violence within the Australian community. This means increased scrutiny of visa applicants involved with domestic violence related charges, domestic violence convictions and even those who only have an AVO against them. 
Our client, approached us in May 2023 with a challenging case involving his application for Permanent Residency (PR) in Australia. He had previously faced two common assault (domestic violence) charges resulting in two separate two-year Community Corrections Orders (CCOs) in 2019. In addition, a two-year Apprehended Violence Order (AVO) was issued against him. Seeking PR, he had engaged a migration agent in 2020 to handle his application. Subsequently, he changed 2 different lawyers to no avail before finding Brightstone Migration. 
Difficulties with this case
The client's PR application encountered substantial challenges due to his domestic violence matters. The Department of Home Affairs expressed intentions to refuse his visa application based on character considerations, citing the aforementioned charges. The case was referred to the Visa Applicant Character Considerations Unit (VACCU) for further assessment. In the midst of these developments, he had changed legal representation twice, engaging two different law firms in his pursuit of a solution. Unfortunately, neither of the previous legal representatives was able to provide effective assistance.
The handling of the case by the prior legal representatives was marked by inefficiencies and inadequate actions. Although he retained them to expedite the process, no substantial progress was made. Communication with the Department were without any comprehensive legal submissions or evidentiary support. We discovered this upon reviewing in detail his entire case file. 
So how did we find a solution?
Upon taking over the case in May 2023, we undertook a comprehensive review of the case's history and identified several areas that required immediate attention. Recognizing the lack of substantive engagement by the previous legal representatives, we promptly initiated a series of strategic steps to address the existing challenges.
Thorough Case Assessment: We conducted a meticulous review of the available evidence and identified critical gaps that needed to be addressed to strengthen his case.

Comprehensive Evidence Collection: Recognizing the importance of a well-supported case, we collaborated closely with the client to gather all relevant evidence, including psychologist report, character references, rehabilitation efforts, and other pertinent documentation.

Detailed Submission: We crafted a comprehensive 21-page submission to the Department of Home Affairs, outlining the extenuating circumstances surrounding his domestic violence matters, emphasizing his rehabilitation, and presenting a compelling case for PR approval. These submissions are critical in addressing all relevant legal factors per Ministerial Direction No. 99. 

Engagement with VACCU: Leveraging our understanding of immigration law and procedural intricacies, we established effective communication with the Visa Applicant Character Considerations Unit (VACCU) to ensure our submission received proper consideration.

Ongoing Monitoring: We proactively monitored the progress of the case providing timely updates to the client and responding to the VACCU with the necessary information immediately. 
Our strategic and comprehensive approach to our client's case and yielded positive results. Within a mere three months, we received feedback from the Department of Home Affairs indicating that he had successfully met the character requirements for PR approval. This success serves as a testament to our commitment to diligent representation, strategic advocacy, and proficient handling of complex immigration matters.
Should you or anyone you know face a complex immigration situation that demands meticulous legal maneuvering, we stand ready to offer our unparalleled expertise and personalized assistance. You can get in touch with us to discuss further about your case and we can offer a different insight: Book a Consultation 
Testimonial
PC
Successful approval from VACCU
Passing VACCU in 3 months
I am extremely grateful to Adele and her team for their invaluable assistance regarding my VACCU matter for PR application. My application was referred to the VACCU department over 2 years ago, and throughout this extended period, I sought help from 2 other lawyers without success. To be candid, I had lost hope before reaching out to BrightStone Migration. From the very beginning, Adele and her team have been truly remarkable. She formulated a comprehensive plan right from day one, outlining the steps she would take. Remarkably, the entire process was completed within the designated timeframe. Adele promptly addressed all of my inquiries, displaying her exceptional responsiveness. She is truly exceptional. If you are currently dealing with your VACCU matter and are reading my message, I wholeheartedly recommend reaching out to Adele without any hesitation. She is truly legend! Thank you again @Adele @Ivy
Need to consult with us? Book an appointment today.
Our team will give you expert advice that has been specifically tailored to your case.
Fill in the questionnaire here and we will call you for an obligation-free assessment. During this phone call we will run through your initial concerns and needs and book in a time for a more detailed consultation.
Our consultation session runs for 30 minutes which will allow us to present to you a detailed strategy to meet the concerns and needs you presented to us in our initial phone call.
Our fee is $150 + GST for a 30 minute session. You can book in a consultation by calling us, emailing us or filling in the Contact Us form.
Settling the strategy and getting started
At the consultation, we will generally present to you a few selections of the best strategies.
We will also balance the time required, costs and difficulty so that you can choose the strategy you are most comfortable with.
Then we will handle everything on your behalf.